1. From an assignment's drop-down menu, select "Quick grade (100%)."
Note: This feature is only active if there are student submissions.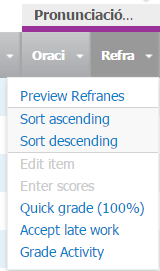 2. Remove students who will not be quick graded by clicking the marked checkbox beside their name.
3. Click "quick grade."
Note: Quick graded scores are marked with a bullet.