Although the most efficient and preferred place to grade student work is from the Grading area, you may access Grading tools to review and grade a specific assignment in the Gradebook Scores area.
1. After locating the assignment in the Scores area, select "Grade Activity" from the assignment's drop-down menu.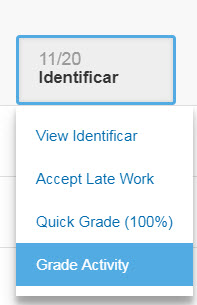 2. On the "How would you like to grade?" page, select a method ("Student by student," "Question by question," or "Spotcheck Student Work") to use to grade the assignment.

3. To review auto-graded questions, be sure to click the "Show auto-graded questions?" checkbox.
Note: For auto-graded questions, you may overwrite the points earned by manually adjusting the awarded points or by selecting the 100% or 0% quick grade buttons. Auto-graded submissions can only be graded after the due date has passed.
4. Click "start grading." See "Student By Student Grading," "Question By Question Grading," or "Spotcheck Student Work" for detailed instructions.