If you or any of the students are getting this message on the screen while trying to see our content,
This is known as the "Failed to enter" error. This issue is caused by having cookies settings disabled on your web-browser. Here are the steps to enable cookies settings for the most popular web-browsers:


For Google Chrome
1. Open the settings menu by clicking on the three dots on the top right corner
2. Then click on "Settings".
3. Scroll down and click on "Advanced".
4. In the "Privacy and Security" section, click on "Content Settings"
5. Select "Cookies" settings.


3. Make sure "Block third-party cookies" is turned off.
For Safari Web Browser:
For version 11 or newer
1. Open Safari, and from Safari menu, click Preferences
2. Click the Privacy Tab
3. Uncheck "Prevent cross-site tracking"


For Safari (older version)
1. Open Safari, and from the Safari menu, click Preferences
2.Click the Privacy tab, and then go to the "Cookies and website data" section.
3.Check on the option "Always Allow"
For Mozilla Firefox
1. Open the preferences menu by clicking on the three bars on the top right corner, and then click on "Options".
2. Go to the Privacy & Security menu
3. In the "Cookies and Site Data" section, make sure the "Accept Third-Party Cookeie and Site Data is set as "Always" and "Block cookies and site data" is unmarked.


For Microsoft Edge
1. Click on the More actions button in the top right corner and select Settings.
2. Scroll down the settings and click on View advanced settings button.
3. Under Cookies, select "Don't Block Cookies".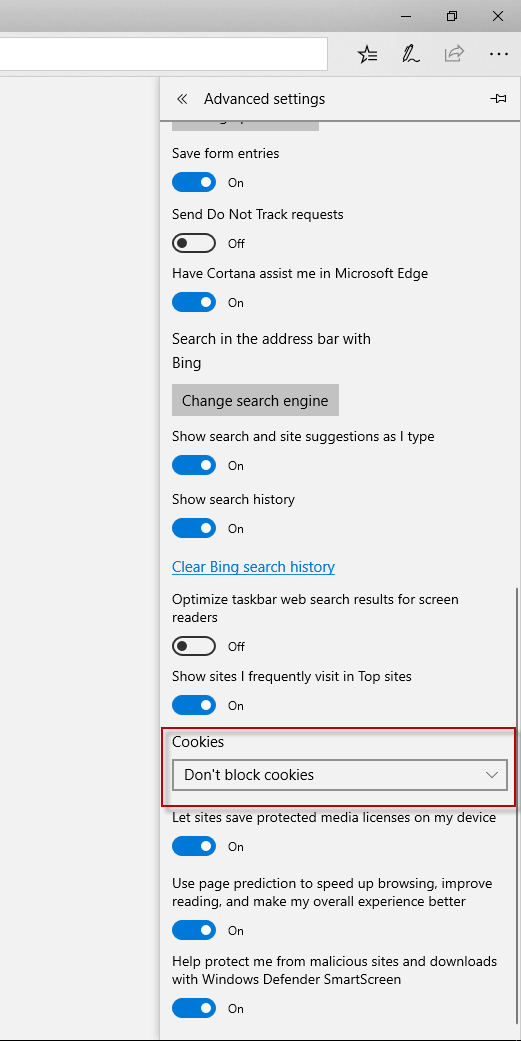 iPad
Safari
1. Go to Settings/Safari
2. Go to Privacy and Security
3. Tap in the option "Block Cookies", and Select Always Allow
  
For more information on how to setup, use, and evaluate materials, visit our Help Center.