This year you will see that we have made enhancements designed to address academic integrity, collaboration with colleagues, and differentiated instruction. These updates are the result of valuable educator feedback and we are excited for you to experience them this academic year. Features including question banks in select programs, more options for Instructor-Generated Content (ICG), randomization, and even the inclusion of proficiency-based testing through the Integrated Performance Assessments (IPAs) represent our commitment to upholding academic integrity.

We know that differentiation is important; different students have different needs. Some need extra time, some need different assignments or assessments. Program navigation has been redesigned to address a wide range of specific student needs. Our mission is to raise the teaching of languages to a higher level. Ensuring that our instructional materials are accessible for all learners will always be a priority.
Analytics
Introducing a new Analytics section of the Gradebook!
Analytics shares detailed, actionable information on student performance and overall class performance so you can identify who needs additional help or support—as well as the topic areas your class struggles with.

Overview of features
Click to view by Students, Strands, or Activities, and click column headers to sort data.
Analytics: Progress displays class average scores by week or by lesson. Choose a student to see how their scores compare to the class average, and for more detail. Analytics visualizes low scores and time spent on assignments—so you don't have to spend time finding them.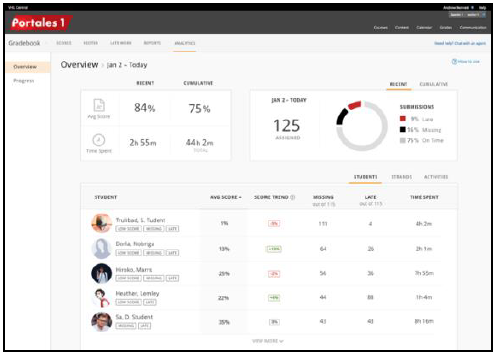 Instructor-Generated Content (IGC) Enhancements
Do you wish you could create your own activities and have them be auto-graded? The wait is over! In addition to the composition, partner chat, and audio recording activities and assessments you are already able to create, you can now create your own virtual chat with the audio recording activity, true false or multiple choice activities, add drop-down menu options, and fill in the blank activities, among others!
Added activity types include free response, multiple answer, audio recording, fill in the blanks, drop-down, multiple choice (2-4 options), upload file (maximum file size 50MB), external link, and solo video recording.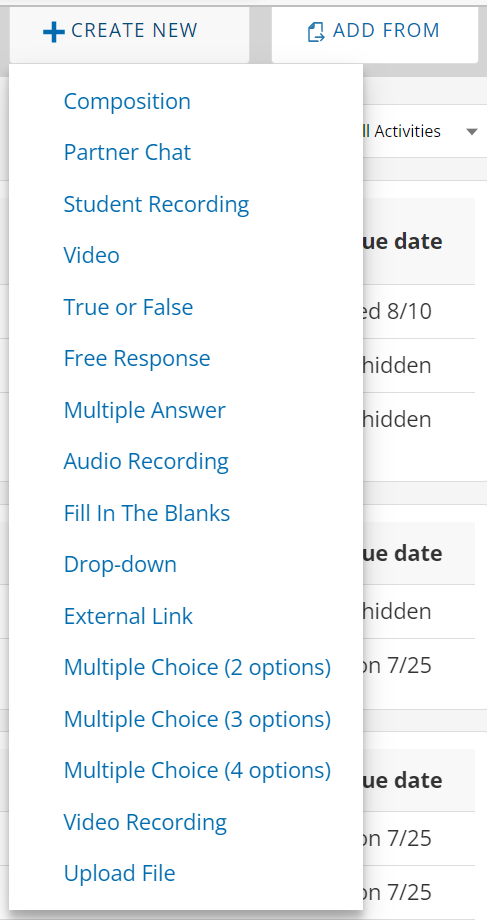 Video Recording IGC
Students can now complete an individual video recording activity or upload a video they have filmed themselves. This is great for activating creativity and for uploading individual or group projects!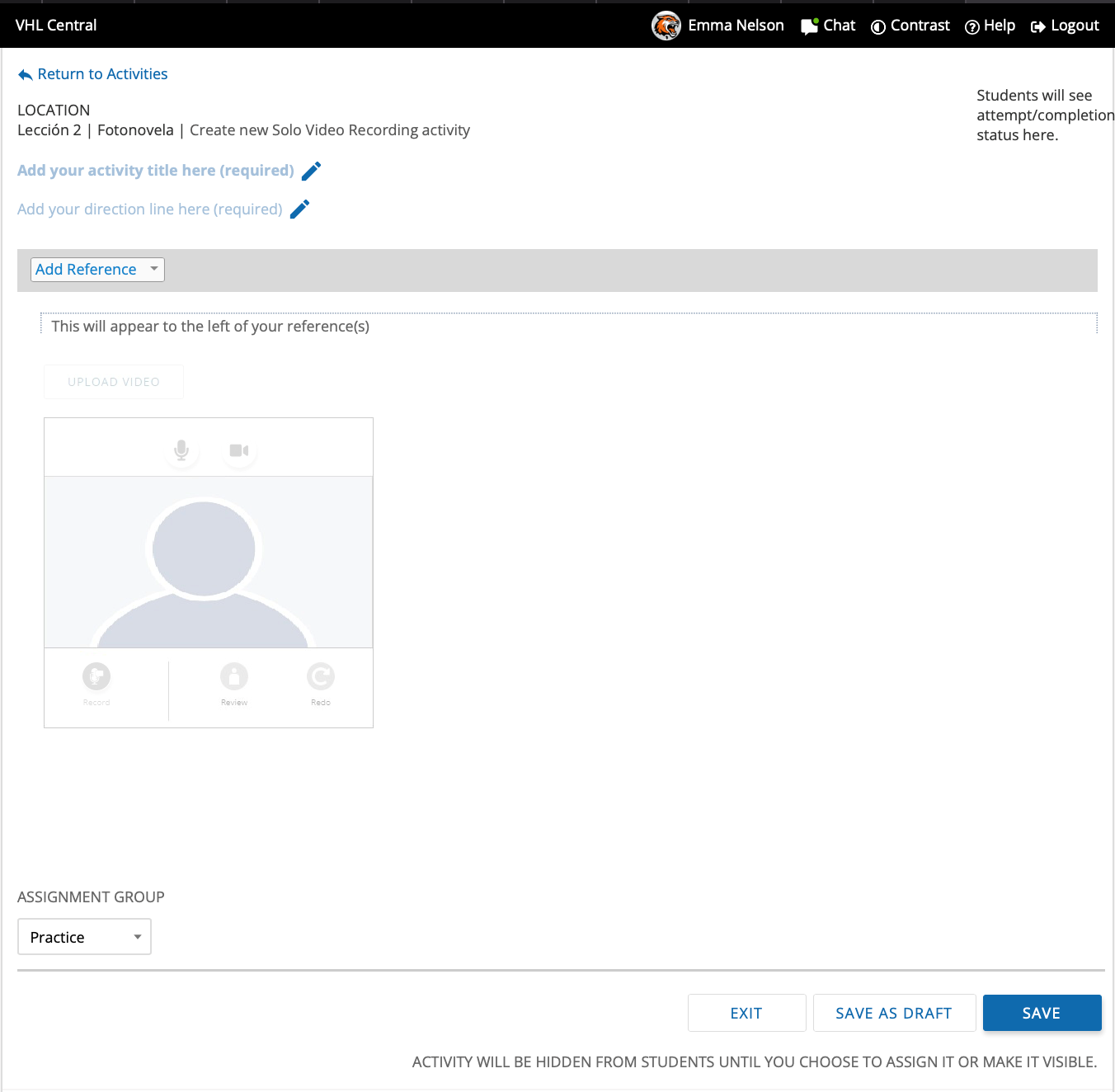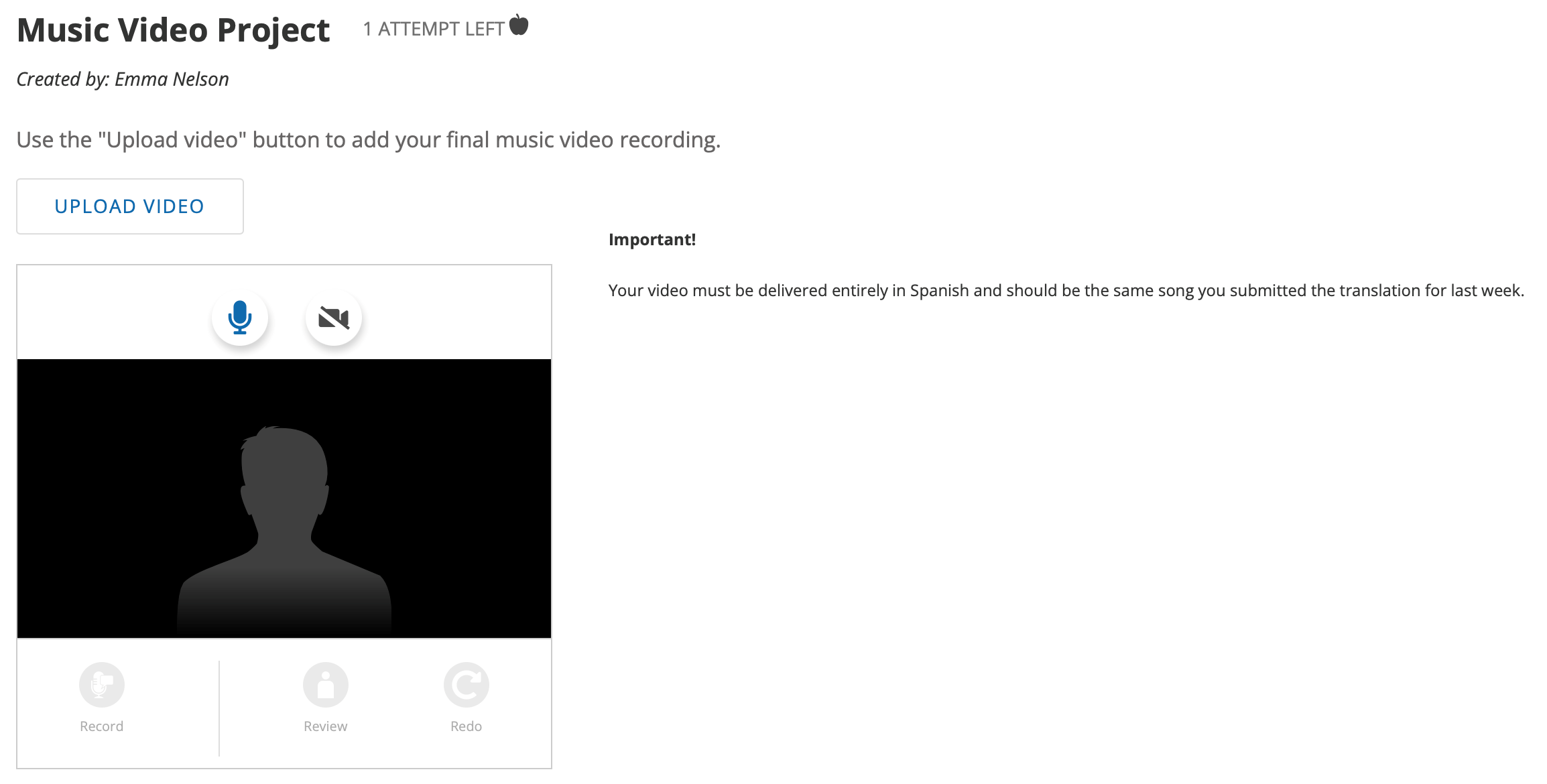 Vimeo Added As a Video Platform Option
Educators now have the option of adding a Vimeo video link to IGC video activities. To copy and share a Vimeo video link, Vimeo users must subscribe (minimally) to the Plus level of Vimeo.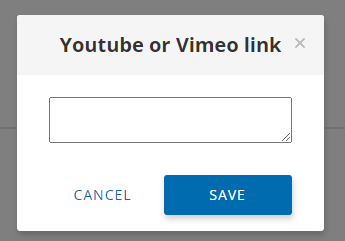 Assigning Tools
Not all students are alike so we have enhanced our assigning tools to make sure you can address their individual needs. You can now assign different assignment or assessments to to your students. You can give certain students extra time on assessments if needed.
Individualized assigning is enabled (default) or disabled within the Course setup wizard.
When assigning activities or assessments, instructors can change the assigning status from Entire Section to Individualized Assigning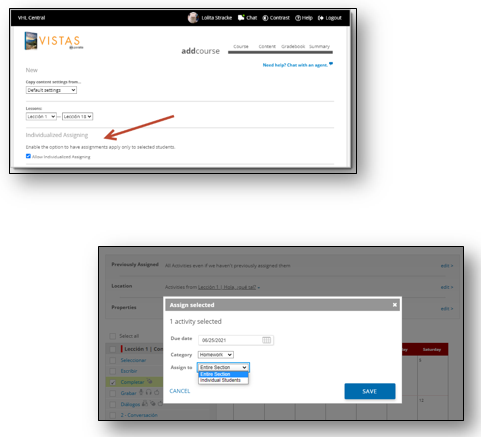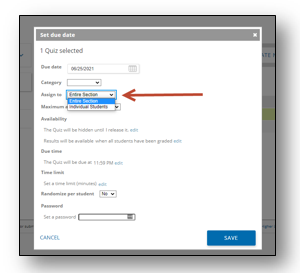 Course Creation Tools Enhanced
New Setting in Add Section
When copying assignments and due dates into a new Section, instructors may now opt to include external Items.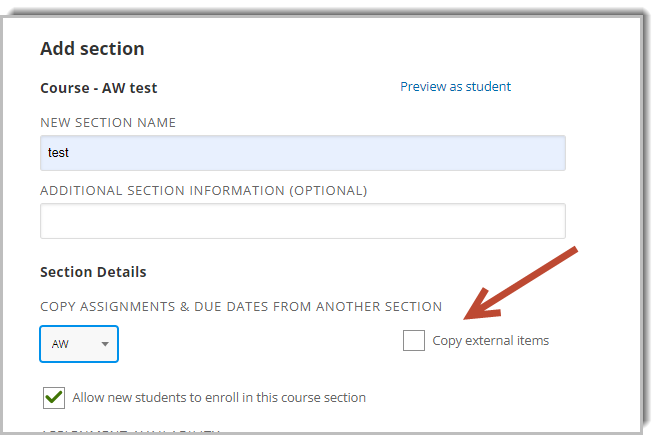 New Setting in Assignment Wizard
When using the Assignment Wizard, instructors may now opt to include instructor-created activities and external Items.

Custom Assessment and Instructor-Generated Content (IGC)
Add Audio Recording Activities in Custom Assessment Items
Assess students' pronunciation, listening and speaking skills by adding your own audio recording activities to custom assessment items. Educators may include text- and/or audio-based prompts for students, as well as audio transcripts in activities to support comprehension or accessibility needs.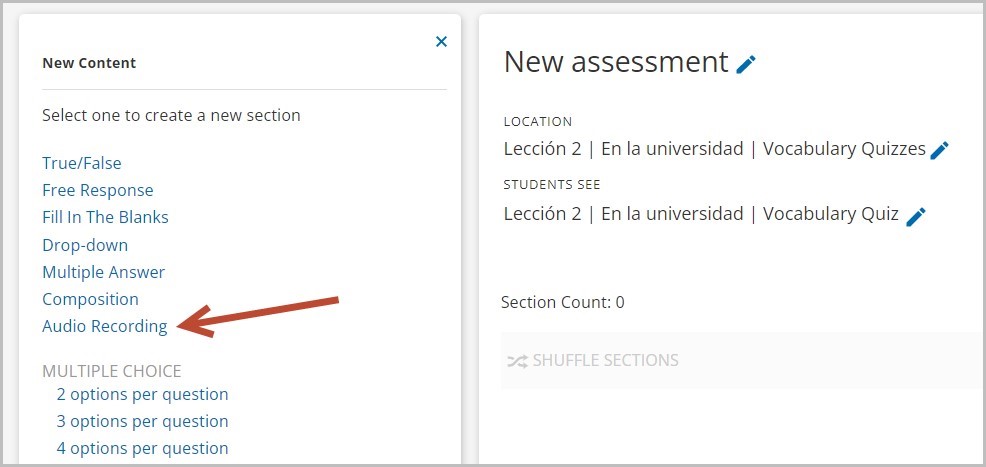 Instructor Teams: Create & Share Instructor-Generated Content (IGC)
Collaboration is key for instructors so it is critical that colleagues be able to share the activities and assessments that they create. That can now be done on the Supersite! All co-instructors on a course are now able to create, share, and assign IGC in their own sections with each other. It is important to note that this is specific to instructor teams and co-instructors in a course.


Assigning
If the Course Owner is assigning (including reassigning and unassigning) at the Course level, that will persist in all sections. This will override any previous due dates set at a section level.
If a co-instructor is assigning in their account, and they are at the Course level, only the sections they teach will receive the assignment.
User Interface - A new look for vhlcentral
Intuitive Instructor Menus
Assigning: Everything you need to assign, assess, and create your own activities
Grading: Easy access to grading, gradebook, and student analytics
Teaching tools: Everything at your fingertips for teaching
Student communications: Tools for connecting and supporting your students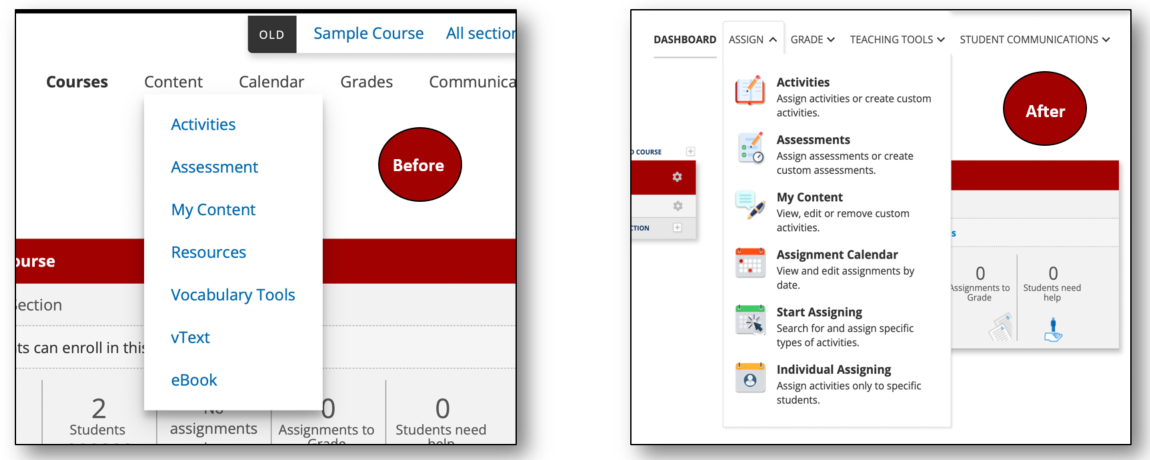 Updated Student Menus
Assignments: Access assignments and additional course content
Grades: Easy access to completed work
Learning Tools: Everything students need to succeed in your course
Communication: Tools for staying connected to fellow students, the course instructor, and important course information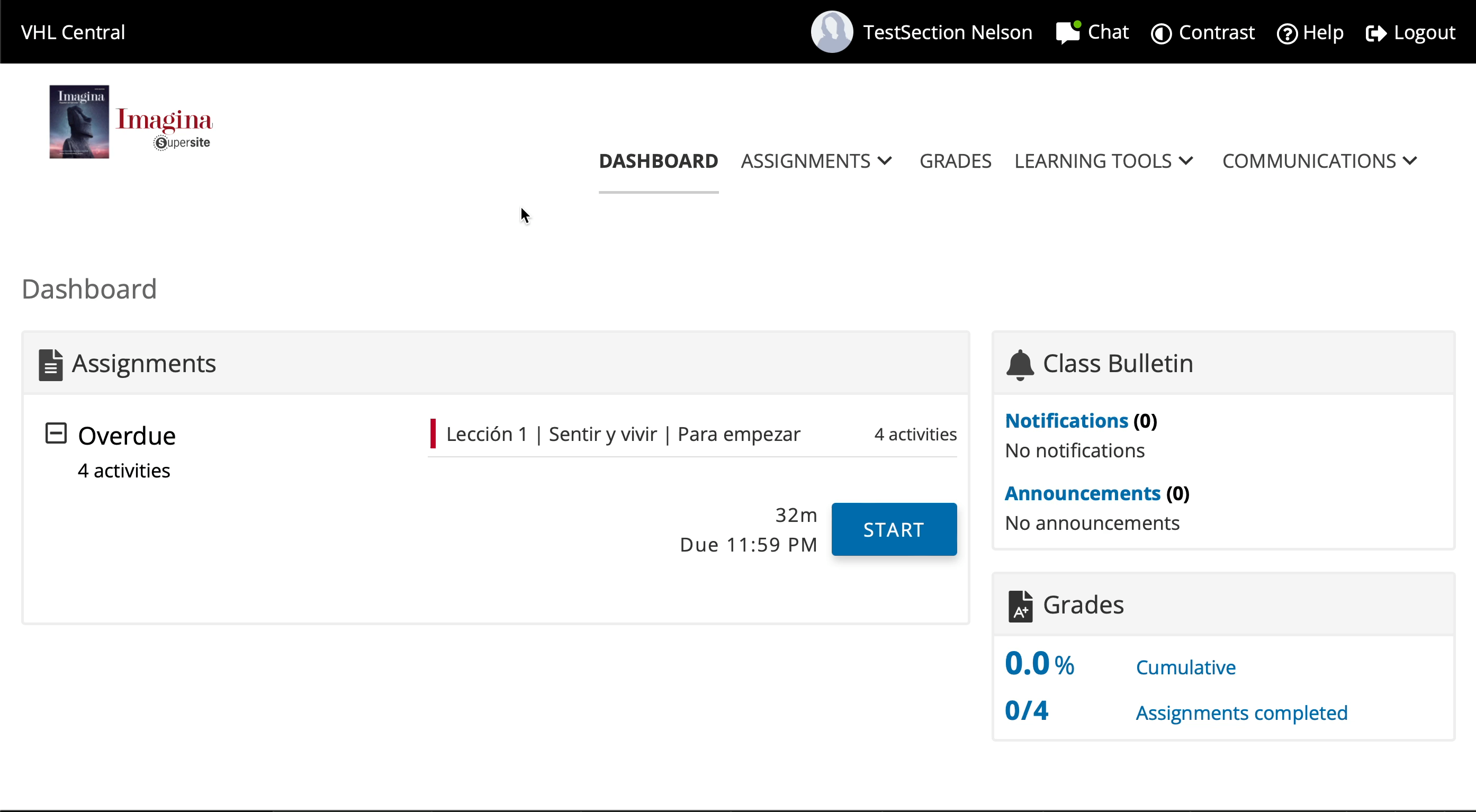 Easy-to-manage Instructor Dashboard
With a fresh and modern design, you can create your course with ease and continue to monitor progress all in one view.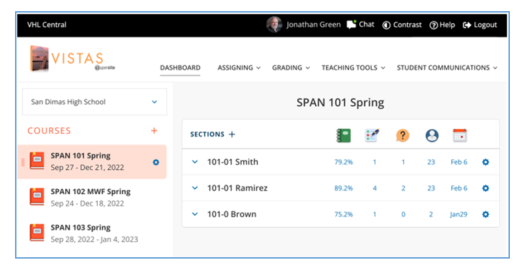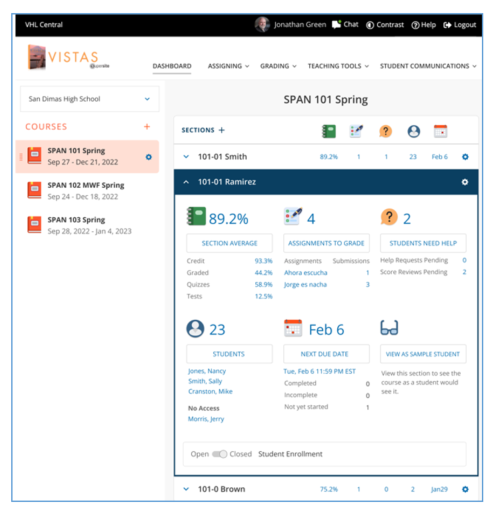 vText Tools
New features have been added within the vText that allow you to:
Highlight content on pages
Add your notes to any location on a page and export your notes to a .csv file